The Advantages of Having $3 Billion
Booster has made five winery acquisitions in the past two years. Paul Taggart caught up with the group's boss to learn more about the business' big picture strategy.
No-one is in a better position to judge the financial viability of a large slew of New Zealand wineries than Allan Yeo. As managing director of the Booster superannuation fund, Allan is sitting on a $3 billion mountain of cash, and one sector where he has been making strategic investments with some of that money has been wine.
After the word got out that he was buying, he now has at least one "exciting wine opportunity" a month crossing his desk. Sadly, the wineries looking for capital are generally not considered as likely to add a great deal of excitement to the Booster balance sheet.
Clearly it's a tough business, so why is the Booster team buying in to grapes and potential grief?
To understand the answer, it is best to go back to Booster's beginning. It was started in 1998 as Grosvenor Financial Services Group by Allan, after a successful career here and overseas in banking. Originally the new business assisted financial advisers, but morphed into a Kiwisaver provider. In 2014 the New Zealand government chose the company as one of the default KiwiSaver scheme providers, alongside the big financial institutions.
Like most of the providers, Booster played the stock markets to get a good return for investors. Often Kiwisaver companies put clients' cash into Kiwi and overseas shares, although many lean heavily towards overseas bourses, as New Zealand shares can have liquidity issues, especially for big investors. Even state-owned Kiwi Bank pumps a lot of its investors' money offshore, seeking higher returns with the likes of Apple or Boeing rather than Fletcher Building or Spark.
Private Equity
Seeking a better return for Booster investors, Allan closely examined the private equity sector, with a view of investing in one of the existing major businesses in that field. However, the fees, plus the length of time money needed to be locked in to the funds meant private equity was not going to work for the investors Booster represents, so Allan took a new tack and began direct investments in Kiwi businesses, cutting out the private equity company middlemen, and their fees.
Tahi – one of the Booster funds – specialises in unlisted investments. These often need big sums of cash upfront, but often give better returns than investing in listed companies.
Some of these investments are partnerships with existing business owners, others are wholly owned.
The investments of interest in this article, however, are the wineries, and the one that best illustrates the advantages of sitting on a pile of cash is the purchase earlier this year of Mahana in Nelson.
Distressed Sale
A brief history of the winery and how it came to be on the market is elsewhere in this feature, but suffice to say it was a distressed sale. The state-of-the-art property cost in the region of $23 million to establish back in 2005, but has rarely operated at more than 35 per cent capacity. Last year its grapes were not even picked.
When the Booster team ran the ruler over the project, they came up with a tender price based on the winery's commercial viability assuming it was part of a wider wine group, and paid no heed to former valuations.
While Booster plays its cards close to its chest on these matters, it is known that banks were owed about $3.3 million and there were contractors owed another couple of hundred thousand. Booster's offer covered these amounts, but there was little left over after those debts were cleared. So the winery was picked up for probably less than a quarter of its former valuation.
A bargain it may have been, but it now needs to pay its way and give a return to investors.
While the Booster purchase brings Mahana back in to Kiwi ownership, there is nothing sentimental about wineries as far as Allan is concerned. He enjoys a decent bottle of Bordeaux and, more latterly, Kiwi pinot noir, so he's a "wine guy" but he's certainly not the sort of affluent soul who can indulge himself in a winery purchase, with no serious consideration as to whether it will ever turn a dollar. He is spending other people's money, and, what's more, he and others sitting at the Booster top table don't get paid their big dollars unless they hit stringent performance targets, which relate to the percentage returns clients make on their savings.
Secret Sauce
So what's the secret sauce Booster brings to the table to make investments in Sileni in Hawke's Bay and Mahana in Nelson palatable for investors? Having spent some time at Mahana chewing over the group's strategies with Allan, I came to the conclusion it is a case of fairly ruthless business acumen being applied to an industry which often doesn't experience it.
Mahana, for example, has a $350,000 metal piece of art at its entrance, courtesy of its former owner. It would be fairly hard to justify commissioning a work of that price to a profit-focused board of directors, or to Kiwisaver investors expecting a return of 7.5 per cent on their money.
For many, winery ownership is a lifestyle choice. However, for a handful of major corporations – mostly overseas-owned, it is a cut-throat business, and everything is constantly on the table including bulk exporting, importing cheap foreign wine to cut the legs from under competitors, selling off underperforming units and dodging tax.
It is clear Booster is ready to swim with the sharks and has been looking at the recently acquired businesses as more than vines and grape varieties.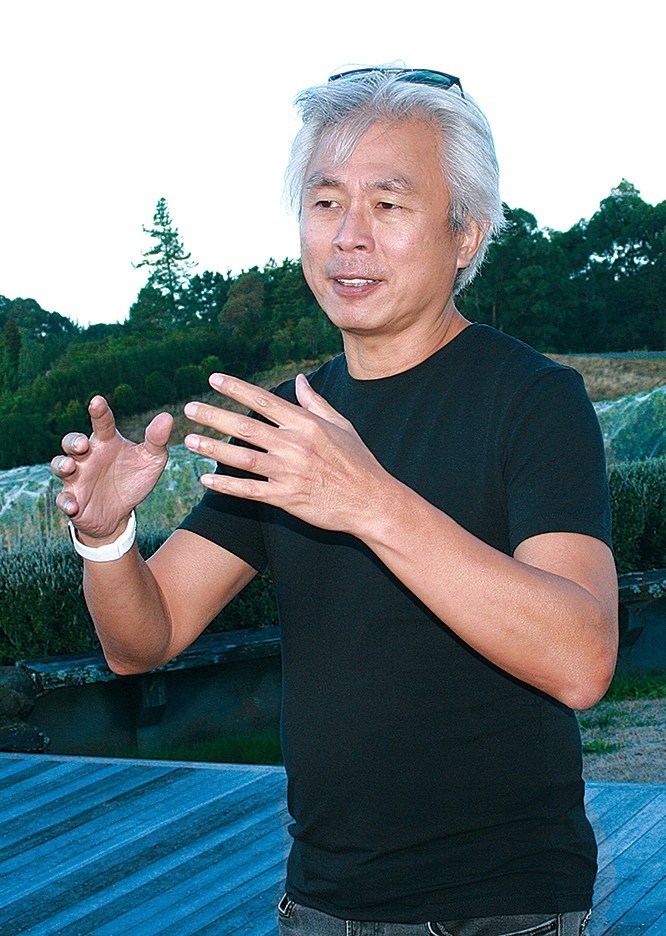 Full feature in the Winter edition of WineNZ.