By Charmian Smith
The hub of the Central Otago wine region is Lake Dunstan, with many vineyards stretching up and down the lake and into the hills and valleys surrounding it.
It's a big area for wine enthusiasts to explore but locals have put together a short trail on the edge of the lake that you can walk or cycle - or drive if need be.
The Four Barrels Walking Wine Trail on the outskirts of Cromwell officially takes in four wineries, but other places nearby can easily be included.
The wineries serve simple food which can be enjoyed in their gardens, vineyards or terraces so the eight kilometre trail can make a leisurely and very enjoyable day out savouring the clear luminescent landscapes of Central as well as its produce - and you feel much better about enjoying wine and lunch if there's a bit of (relatively easy) exercise in between!
The trail is a loop so you can do it in any direction although the brochure, available at the wineries, assumes you start and finish at the information centre in Cromwell township.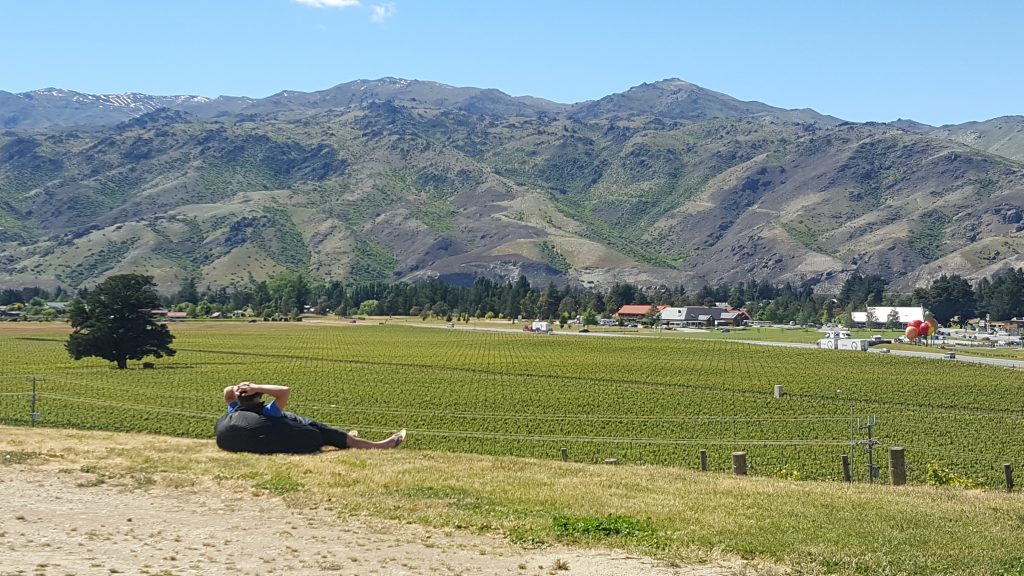 AURUM
We started at Aurum's charming office and tasting room set in a cottage garden, and found winemaker Lucie Lawrence behind the counter.
Aurum is a real family enterprise. Aucklanders Joan (an archaeologist) and Tony (an orthodontist) Lawrence planted their first vineyard in 1997. In 2004 their son Brook who had been working in vineyards in France returned with his new wife Lucie, a third generation French winemaker, and the younger couple slowly took over. The winery is across the carpark and their two houses are behind the complex and an olive grove, overlooking the lake.
Another olive grove shields the tasting room from the highway so it's a charming place to visit and picnic with one of their simple platters.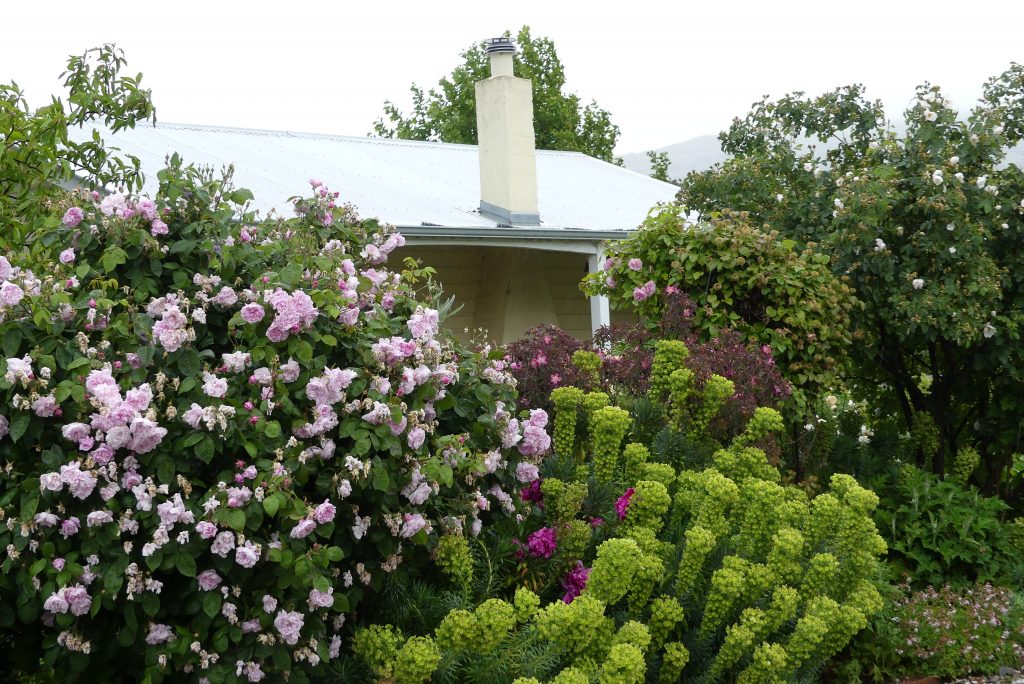 The 4ha vineyard across the lane from the buildings and garden is organic, growing only pinot gris and pinot noir, although a new 4ha vineyard on the other side the highway includes riesling.
Lucie uses traditional Burgundian winemaking techniques with indigenous yeasts, and makes several unusual wines from the two varieties.
Don't miss the delicious, pale Pinot Gris Rosé 2019 ($28) which had three days skin contact giving it fragrance and texture, more akin to a Provençal rosé than the usual pinot rosé found in Central.
Lucie likes to retain the natural purity of cool climate chardonnay and her 2018 ($45) is complex, minerally and dry
Many innovative winemakers have been experimenting with an ancient winemaking method to produce amber or "orange" wines. These are white wines made like reds - fermented and left on their skins for several months giving them colour and unexpected structure and tannins. Amber 2018 ($45), made from pinot gris, hints of mineral and has a wonderful texture, dry with subtle tannins. An excellent wine, like most of Lucie's, to go with food.
With 20-year old vines, Aurum's Estate Pinot Noir 2017 ($38) has a savoury aroma, texture and a surprising weight, mouthfeel and depth.
The reserve pinot noirs named after Lucie and Brook's two daughters, Mathilde and Madeleine, come from specific vineyard blocks. Both evolve in the glass as you drink them indicating cellaring potential.
Mathilde Pinot Noir 2016 ($55) is harmonious, silky, savoury and spicy with an underlying minerality and a lip-smacking finish.
Madeleine Pinot Noir 2016 ($88) is perhaps more elegant and charming but powerful in a feminine way, with fine-grained tannins and an aftertaste that lingers for several minutes.
Lucie also makes Port Molyneux, a white port style from pinot gris, pale gold, sweet, rich and unctuous with a hint of spice. It's excellent with fruitcake, and also chilled in summer with ice and soda water as an aperitif to get the tastebuds going, she says.
SCOTT BASE
On the other side of the main highway (take care crossing!) and up a slope is the 6ha Scott Base vineyard and a small, rustic tasting room and cafe, Space at the Base, run by Carolyn Murray who serves platters and sandwiches.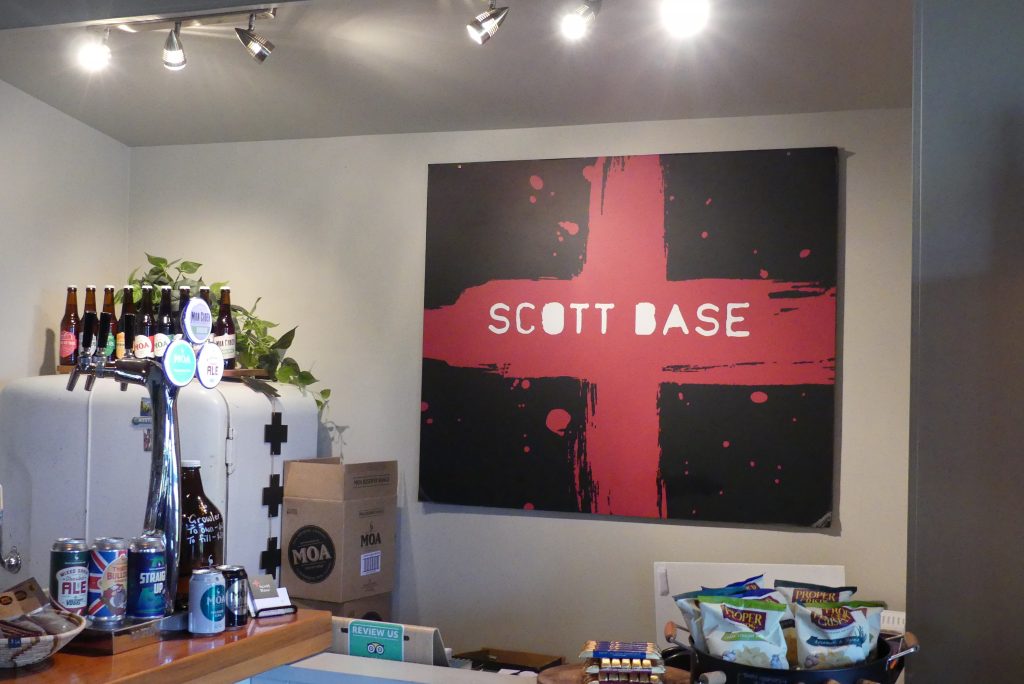 Scott Base is the Central Otago arm of Marlborough-based Allan Scott Family Winemakers - Allan's holiday house is on the property behind some sheds. Besides the Scott Base Central Otago wines Carolyn also stocks some of his Marlborough wines, Josh Scott's funkily labelled wines including a green ginger wine (riesling co-fermented with ginger), and beers from the family brewery, Moa.
After picking, the Central Otago grapes are trucked overnight to the Marlborough winery for vinifying although Allan has plans for a local, gravity-fed winery on site.
New to me was the Scott Base Emperor ($29) (named after the emperor penguins), a non-vintage sparkling wine only available at Scott's cellar doors. Elegant and slightly biscuity with a subtle hint of citrus, it's a blanc de blanc - made from chardonnay.
There are few sauvignon blancs made in Central but I suppose it's inevitable that a Marlborough-based winery famous for its sauvignon should produce one here. Made from Gibbston-grown grapes, it is delicate with a hint of nettles and schist and a crisp finish ($31).
In true Scott style, the Scott Base chardonnay 2018 ($32) is a creamy, oaky style with suggestions of freshly sharpened pencil and citrus, and a crisp, lingering finish.
Scott Base Pinot Noir 2018 ($39) shows all the lovely dark cherry and savoury character of Cromwell Basin fruit backed by a hint of spicy oak and crisp, textural tannins.
Bigger and more oaky but still oozing dark cherries and savoury notes is the Reserve Pinot Noir 2017 ($47).
WOOING TREE
Many wine lovers know the story of the Wooing Tree, a large pine tree that still stands in the middle of the eponymous vineyard - the story goes that many a troth was plighted under that tree and some locals were even conceived there.
However, Stephen and Thea Farquharson and Stephen's sister and brother-in-law, Jane and Geoff Bews are planning to subdivide some of the vineyard for housing to help meet the demand for land in Cromwell. The little tasting room and restaurant at present in the middle of the vines will move to bigger premises on the main highway over the next five to seven years. The surrounding vineyard will be smaller but as they already source many of their grapes from other vineyards the wine will not change a lot, Steve says.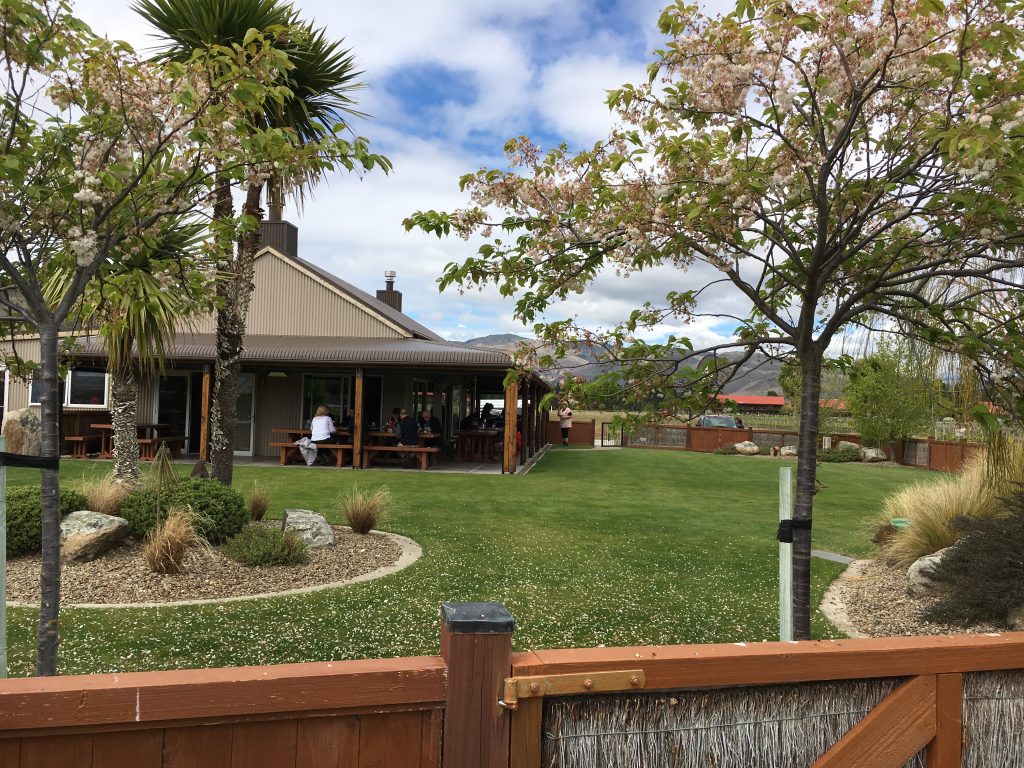 The two couples, originally from North Otago, had been working in the UK (Steve had a wine importing business) but wanted to return to New Zealand for family and lifestyle reasons. Pinot Noir in Central was starting to take off at the time and they decided to join the industry, bought land and had the vineyard planted. They returned to New Zealand at the end of 2004 in time for their first vintage the following year.
Some of their wines have become well known for their quirky names: Blondie ($30), a fresh, white pinot noir with hints of stone fruit; Beetlejuice Pinot Noir 2018 ($28) - named after the rare and endangered Cromwell chaffer beetle that has its own reserve nearby - oozing red fruits with a hint of oak and spice and a fresh crunchy finish; and Tickled Pink ($40 350ml), a late harvest pinot noir rosé left to hang on the vine a month after the the rest of the crop was picked, that charms with floral aromas and all the sweet fruitiness of a late harvest dessert wine.
Wooing Tree Pinot Noir 2017 ($48) is darker, more savoury and textured with lip-smacking tannins, and the Sandstorm Reserve Pinot Noir 2014 ($85) is more complex and spicy, already developing mature tertiary characters at six years old.
And to accompany one of the platters for lunch there are also a delicious floral, textural Rosé ($27), a fragrant Pinot Gris ($32) oozing tropical and stone fruit but with a background texture from some barrel fermentation, and a creamy Chardonnay ($38) with fruit harmoniously supported by subtle oak.
MISHA'S VINEYARD
A walk along the lake shore will take you to Misha's Vineyard's tasting room in a complex of shops and cafes across the main highway on the edge of town.
Although you can't visit Misha's actual vineyard a few kilometres up the lake, a huge photograph of the steep vineyard swooping down the hillside towards the lake in a series of north-facing slopes, gullies and terraces gives some idea of the splendour of its setting. From 210m above sea level to 350m at the top there's a variety of microclimates and soils in the 57ha to suit different varieties and styles of wine.
Having spent several years living in Asia, Misha and Andy Wilkinson also embrace some aspects of Chinese culture such as the lucky number 8 and the auspicious feng shui of the stunning site.
The history of the site includes Chinese gold miner Ah Foo, the ruins of whose house stand near the top of the vineyard.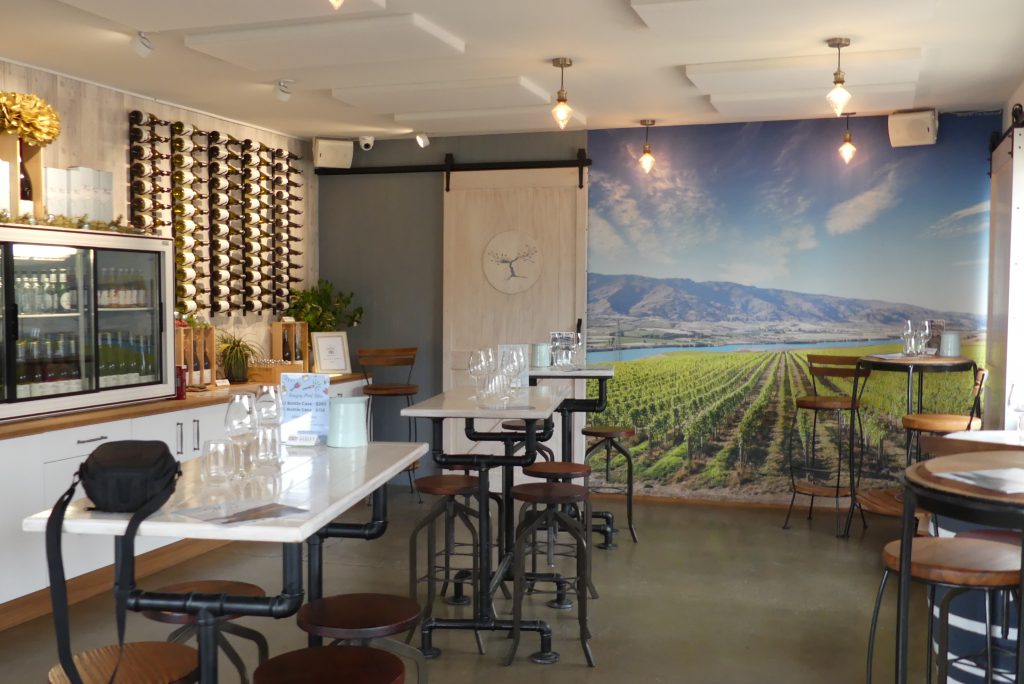 Misha, who describes herself as a "failed ballet dancer" and who worked in marketing opera (her mother was an opera singer), has taken up the theatre theme in the names of the wines - Dress Circle Pinot Gris, Limelight and Lyric Rieslings, The Starlet Sauvignon Blanc, and Cadenza late harvest Gewürztraminer.
Misha's is one of the few Central winemakers to produce gewürztraminer, a variety that does well in the region. The Gallery Gewürztraminer 2016 ($32) is a stunner - powerful with a luxurious texture, oozing charm and intensity but yet elegant and beautifully balanced. Gewürz is a fickle grape and the wine is not produced every year, but if you find it, don't miss tasting it.
As always in Central, pinot noir is the highlight, and they make several, the dark, brooding reserve Verismo ($75), the complex, savoury High Note ($48), the easily approachable Cantata ($30) and Impromptu ($30) which is not made every year.
Misha's also serves platters which can be enjoyed with a glass of wine on the terrace.
AND ANOTHER COUPLE OF PRODUCERS
Although it's not officially part of the Four Barrels trail, right next door to Misha's tasting room is another, shared by Quest Farm and Matt Connell Wines. It's interesting to compare the full-on, rich new world style of Matt's wines with Mark Mason of Quest Farm's old world styles which have more emphasis on structure and texture and which accompany food particularly well.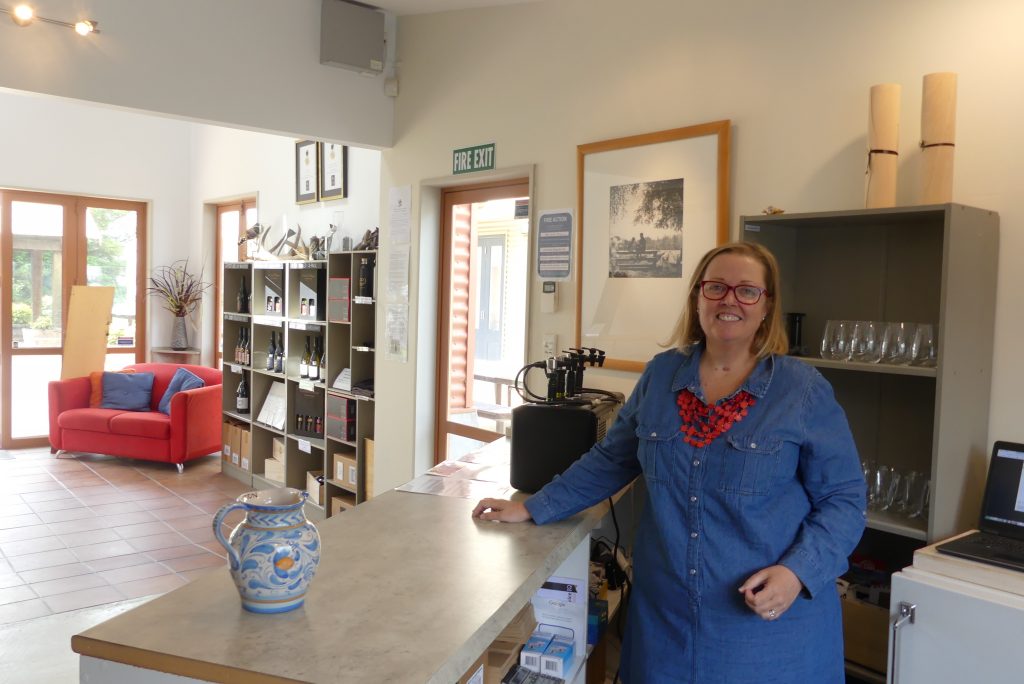 Matt set up his own label and contract winemaking business about five years ago after more than a decade working in other Central and overseas wineries. He is a keen hunter and angler - something reflected in his label which sports his initials twined with antlers.
Matt Connell Chardonnay, 2018 ($38) from Lowburn is barrel fermented with indigenous yeast and left on its lees to develop the rich, nutty undertones that bring complexity to this taut, fresh wine.
Matt Connell Rendition Pinot Noir 2018 ($44), described as the quintessence of Central Otago from a particular vintage, is a charming ripe, spicy pinot, rich and full in the mouth with dark fruit and supple, lingering tannins.
Quest Farm's 20ha vineyard is hidden from the main highway up at Parkburn in the warm, north-facing foothills of the Mt Pisa Range. In 1986 Mark and his brother David Mason established Sacred Hill winery in Hawkes Bay but a dozen years later he came south for the skiing, discovered the briar covered hillside ideal for grapes and established yet another vineyard.
Most of his produce is exported but his wine can be tasted here in Cromwell. Lucky visitors will even find a few older vintage gems on the shelves. Try the floral, textural, beautifully balanced Quest Silver Lining Pinot Gris 2016 ($25) which includes a tiny percentage of gewürztraminer and viognier. Quest Pinot Noir 2016 ($40) has the lovely gamey, savoury character of mature pinot noir with fine grained tannins.
AND YET ANOTHER
If you are still up for more wine - and more substantial food than platters - call in at the Stoaker Room Bistro and Bar tucked away in marquees (and a small indoor bar and restaurant for cold weather) behind the buildings.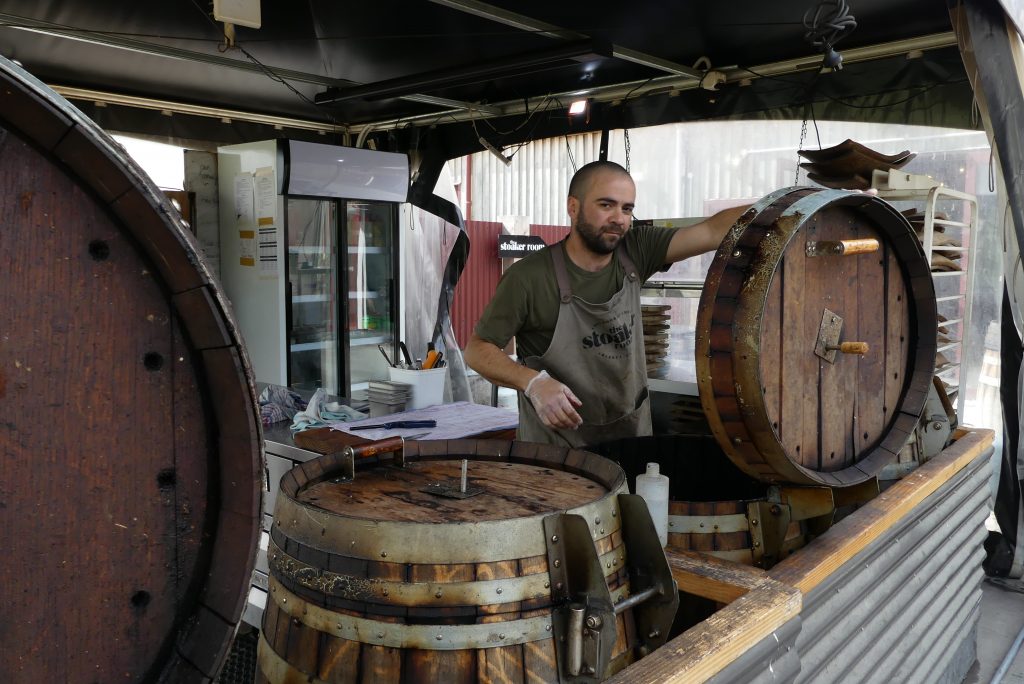 Californian Quintin Quidder, commercial diver and founder of Wild Earth Vineyard, developed a cooking method, part smoking, part steaming, in old wine barrels and found it the ideal way to cook seafood and game. Despite some remarkable competition successes with his Wild Earth wines, his emphasis has changed to food and catering, although he still produces his own label.
The. Stoaker Room has a meaty menu with seafood, burgers and sandwiches as well, although there are some plant-based dishes such as a grilled cauliflower steak. The best bet, if you are hungry, is to order the chef's selection of five tasting dishes with matching wines.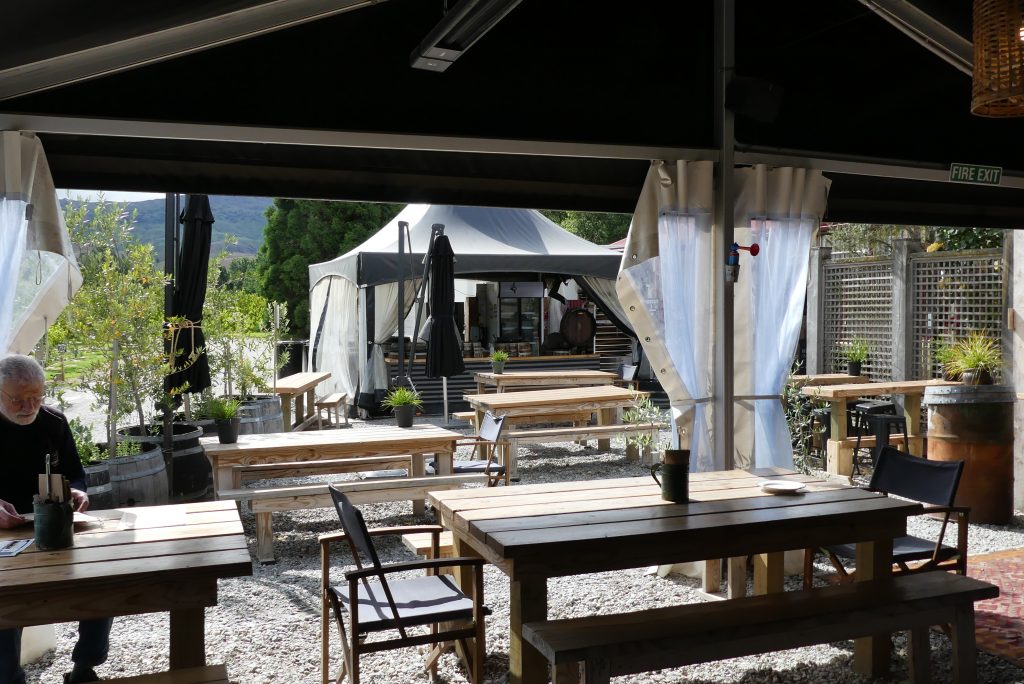 The wines come in small bottles in a rack made of a barrel stave along with a single brandy glass - not exactly the best tasting situation, but the casual atmosphere in a marquee with an outdoor kitchen - and the food - are worth a visit.
Find out more:
cromwell.org.nz/listing/4-barrels-walking-wine-trail/
Aurum Wines
140 State Highway 6, Cromwell.
03 445 3620
Scott Base
27 McNab Rd, Cromwell
03 445 4715
Wooing Tree Vineyard
64 Shortcut Rd, Cromwell
03 445 4142
Misha's Vineyard
182 State Highway 8 B, Cromwell
03 445 4456
Quest Farm and Matt Connell Wines
180 State Highway 8 B, Cromwell
The Stoaker Room and Wild Earth wines
180 State Highway 8 B, Cromwell 03 445 4841