"We've stopped trying to convince people that climate change is real," says Senior Viticulturist at the Australian Wine Research Institute (AWRI), Dr Mardi Longbottom. "It's not really a discussion anymore, whether it's true or not. We've gone beyond that."
Australia has warmed by just over 1˚C since 1910. Most of that warming occurred after 1950. The most recent 2018-19 summer was the hottest on record with average temperatures recorded at 2.1˚C above the national average. Viticulturists and their vines sweltered through extreme heat waves across many wine regions. The Hunter Valley recorded a vintage mean maximum of 42.35˚C, while McLaren Vale and the Barossa experienced harvest temperatures as high as 46˚C. Even in the relatively cool climes of Australia's most southerly state, Tasmania, the mercury reached as high as 37˚C in the Huon Valley. Here, extraordinary bushfires ignited by a dry lightning strike in late December raged unpredictably across 187,000 hectares, sending vast plumes of smoke towards the east that billowed over thousands of hectares of vines, permeating their grapes with smoke taint.
"We had burning embers of leaves and bits of bracken just drifting and floating and landing on our property," Tasmanian winegrower, Jim Chatto recalls of the bushfires that tore through Tasmania, last summer. "The whole place was just so dry. We haven't had decent rain for two years, really."
Off the back of the hottest summer on record, Australian winegrowers are experiencing the real time, season to season, day to day effects of climate change. The new normal for vintage conditions across much of the country's wine regions can be summed up in just two words; hot and fast. Extreme temperatures are causing harvest dates to creep forward and vintage times to become compressed.
"Our observations have been that all regions in Australia will be effected by climate change in different ways," Dr Longbottom says. "I think earlier harvest starts and vintage compression are the most obvious and immediate threats."
One of the most consistent climate drivers imposing itself upon Australian winegrowers lies to the west of the continent, off the coast of Western Australia (WA), in the Indian Ocean. Whenever, what's known as, the Indian Ocean Dipole (IOD) is in a positive phase, the waters off WA are cooler than usual. This reduces the amount of moisture available to evaporate and be dragged across the country by storm systems. Researchers have determined that a positive IOD phase during the growing season can cause grapes to ripen faster and mature up to 42 days earlier than usual. A positive IOD also correlates with warmer weather, less rain, and therefore vintage phenomenons like harvest creep and vintage compression.
Vintage compression occurs when the time between the harvest of early maturing varieties, for example chardonnay, and later ripening varieties, such as cabernet sauvignon, becomes shorter. This can cause chaos for winegrowers as the logistics of vintage get disrupted. Coupled with this is increased pest and disease pressure and bushfires breaking out next to, near, or within nearly every single wine region of the country. All the while, access to water remains an ever-present worry.
"The trend in growing seasons is quite alarming; drier conditions overall with more extreme heat events leading to shorter ripening times is what we are seeing now," declares Small Fry Wines Barossa winegrower, Wayne Ahrens.
Today, Australia's winegrowers are being forced to seriously think about the ways in which they do business now and into the future, as the world's greatest existential threat to life on earth as we know it comes rushing up to meet us all, ever-quicker, ever hotter, every year.
HARVEST CREEP & COMPRESSION
On average, across the country, picking dates have been moving forward 1 day per year. Canberra winemaker, Frank van de Loo of Mount Majura Vineyard has 29 years' worth of data indicating a slow and steady harvest creep for early-ripening varieties, like chardonnay.
"Warm dry winters can lead to earlier budburst, plus an increased risk of spring frost here in Canberra. Early budburst is especially noticeable in the chardonnay," says Frank. "We're losing acids earlier and earlier. So, with chardonnay, we're making less still wine and more sparkling styles. Only because we can pick the sparkling fruit base more on acid than on flavour."
In Australia's oldest continually producing wine region, the Hunter Valley, Tyrrell's Wines make one of the world's greatest chardonnays; Vat 47. Fifth generation winegrower, Chris Tyrrell is seeing signs of harvest creep amongst his chardonnay vines, but is cautious about lumping all the blame in with climate change.
"We're definitely seeing picking dates move forward, but you've got to keep in mind that the style of chardonnay we make these days is a lot leaner than it used to be," says Chris. "We're picking our chardonnay 4 or 5 days earlier by choice to retain natural acidity and achieve a leaner, fresher style. We have 18 years' worth of data, analysed by block and variety and what it really tells us is that we need more time to come up with more meaningful information, before we know exactly how climate change is affecting us.
"Having said that, for shiraz, our vintage is definitely compressed with most sites ripening around the same time, which puts a strain on the logistics of harvest," Chris continues. "Thankfully, we now have four times the fermentation capacity in the winery so that we can keep picking until all the fruit is in, instead of waiting for space to free up."
Extra tank space is not a luxury that most wineries can afford. Lacking ample capital, many winegrowers and viticulturists need to come up with novel and often inventive ways to beat the heat. For existing, traditional Australian wine varieties, like chardonnay and shiraz, increased canopy management and trellis modifications are being used to improve fruit shading and air flow. Other Aussie vitis are experimenting using anti-transpirant sprays, which act like sunscreen for vines.
"Heat waves aren't ideal, but we've got tools to combat them when they come," Hunter viticulturist Liz Riley says. "We use kaolin clay. It's baked at ultra-high temperatures and then milled into a fine power, which we spray out onto the vines. It looks like snow and reflects heat off the canopy. So, instead of shutting down when the temperature gets above 35˚C, the vines have a bit of a buffer that enables them to keep on ripening. It's a useful tool to help us to manage vintage compression when it gets too hot…
"I think we need to be trying new things and be open minded about using anything and everything that's in our 'viti toolbox'," Liz continues. "More than anything, we need data, we need knowledge, so we can be as agile as possible throughout the seasons in response to this changing climate."
ALTERNATIVE VARIETIES
Ashley Ratcliff from Ricca Terra Farms in the Riverland, South
Australia, is placing most of his future stocks into alternative
varietals as a way to mitigate the immediate and long-term effects of
climate change. Ashley manages over 500 acres of vines in the irrigation
capital of Australia.
Alongside classic varieties chardonnay, shiraz, cabernet sauvignon and sauvignon blanc, Ricca Terra has become known for its many weird yet wonderful alternative varieties, hailing from regions in Italy, Spain, and Portugal. Names include vermentino, fiano, arinto, greco, negroamaro, aglianico, touriga, montepulciano, nero d'avola, and nero de troia, to name a few. Ashley has around 35 non-traditional wine grape varieties growing at Ricca Terra farm, and he is adamant these wine grapes will become the future of Australian wine in years to come.
"We started planting alternative varieties about ten years ago because we recognised early on the potential for these vines to grow well here. They seem to suit the low humidity, warm climate of the Riverland quite well," Ashley explains. "Vines like montepulciano and nero d'avola are drought tolerant and use much less water than the traditional varieties."
Despite its name, water is a scarce resource in the Riverland. Because of ongoing drought conditions, water allocations have been reduced to 33%. Right now, a 1000L or one tonne of water will cost you around $600, while the price to buy a tonne of chardonnay from Ashley is sitting at around $350.
"Obviously, that's not sustainable over the long run," Ashley says. "One or two years, maybe, but over multiple years, that's a sure fire way to go broke, which is why we're concentrating our efforts on these more drought tolerant vines."
South of the Riverland, Gemtree Wine's Melissa Brown is also pursuing alternative varieties as a viable option to help future proof her winegrowing business in McLaren Vale.
"We had virtually no rainfall for six months prior to the 2019 vintage, which included a five-day heatwave right as we were beginning to pick our reds. In the last decade we have seen riper fruit and higher alcohols," Melissa explains. "Recently, we started removing varieties that were perhaps better suited to cooler climates, like riesling, pinot noir, and sauvignon blanc, and grafting over ones that we think are better suited to our climate, and which we hope will ripen throughout the season, instead of all at once."
Research conducted by the AWRI has concluded that alternative vine varieties are a sustainable way to adapt to climate change, ensuring the long-term environmental and economic sustainability of the Australian wine industry. Melissa Brown, Ashley Ratcliff, and Liz Riley are living proof of how Australian winegrowers are facing up to the challenges of climate change head on; utilising – as Liz says – anything and everything in the 'viti toolbox' that they can.
WATER
Water, of course, is one of the most essential viticultural tools. However, in some regions of this dry continent water is fast becoming a premium, albeit crucial, element of grape growing. High prices, depleted aquifers and rising salinity issues are all at play as the climate changes around the world. According to Chris Tyrrell, their centurion old, dry grown vineyards consistently out-perform the irrigated blocks by some margin. And, elsewhere, winegrowers are following suit, trying to ween off their vines' reliance on supplementary water from irrigation.
"Our dam used to overflow every year. Now, that seems to have reduced to two out of every three years, and falling," says Blackwood Hill, Yarra Valley winegrower, James Calder. "In response to this, we are training our vines to become less dependent on irrigation. We're using high nutrient foliar sprays, like fish-kelp mixes and are cultivating under the vines to open up and aerate the soil to encourage root growth depth and control competing weeds, which will, hopefully, make our vines more robust and resilient throughout the increasingly hotter and drier summers."
Rather than remove the safety net of irrigation altogether, Barossa Valley winegrower, Wayne Ahrens has spent money upgrading his irrigation infrastructure, which includes a localised desalination plant.
"So we can better respond to heat wave events, we've installed subsoil moisture monitoring technology and are moving over to inline drippers to better control soil moisture along the vine rows," Wayne explains. "We're also installing a desalination plant to reduce the salinity of our underground water as the presence of salt is rapidly increasing year on year. Basically," Wayne adds, "our focus is on increasing soil health by managing organic matter in the soil to help buffer the vines from the extreme weather we're
now seeing."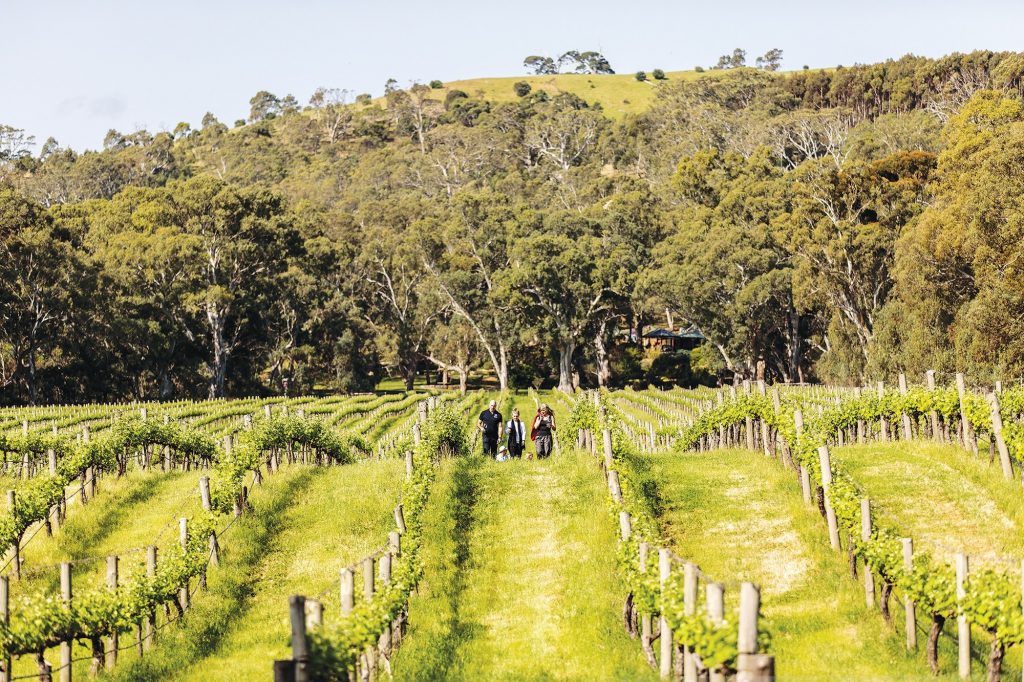 NOT SO BAD
Not all wine regions across Australia are experiencing this dramatic climatic paradigm shift. Parts of South Australia and Western Australia have, so far, been protected from the extreme heat and wild weather events of other wine regions, due to their locations being closer to the coast than most. Ever consistent Margaret River, for instance, seems to be fairing quite well, experiencing cooler than normal conditions of recent years – perhaps due to the positive IOD phase – while the fledgling South Australian wine region, Limestone Coast, appears to be gently easing into this new world climate.
"We've just have the best vintage [2019] we've ever had," says Cape Jaffa winegrower, Derek Hooper. "Harvest dates have moved forward, but we don't see vintage compression down here on the Limestone Coast. The cooling effect of the Great Southern Ocean means we don't get those extreme heat waves, which makes everything ripen at once. It just hasn't happened here… yet," he adds.
"Margaret River is buffered by the Indian Ocean and climate change is not as present here as in other regions of Australia," says biodynamic winegrowing pioneer, Vanya Cullen. "There was a recent study done by the CSIRO which found that the harvest date had not significantly changed here over the past 34 years, or so."
Fortuitous geographical placement notwithstanding, Vanya is a firm believer in encouraging Australian winegrowers to begin working within the boundaries of nature; adapting, learning and evolving alongside any changes to the environment which occur over time.
"Our vines have been grown biodynamically since 2005, and we've been a carbon neutral property since 2006. We believe our place is in balance with Nature, our vines are in balance with the soil, and hence we have easily adapted to any changes brought about by climate change," Vanya says.
If there are any positives to be gleaned from this particularly dire situation we find ourselves in, it's that a changing climate is forcing winegrowers, not just in Australia, but around the world, to think, long and hard about the impacts their specific way of winegrowing has on the planet. For better or worse, the Australian winegrowing hand has been forced to comply, now, and move forward along the pathway that the Earth is currently leading them down. Put simply, Australian winegrowing must adapt and evolve.